CONTACT LENS FITTING IN CAMBRIDGE, ON
Each person's contact lens size and type are different. It is important to carefully curate the contact lens fitting process so that the patient or customer receives the best service. To get the perfect contact lens fitting in Cambridge, visit Lens and Frames Optical.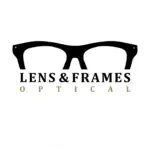 WHAT TO EXPECT DURING A CONTACT LENS FITTING AT LENS AND FRAMES OPTICAL?
To get the ideal fitting contact lenses, you must undergo a comprehensive eye exam. Your optometrist will determine your prescription and ensure that your eyes are healthy enough to
wear contacts.  Following the comprehensive exam, you will require soft contact lens fitting. This examination will give the optometrist the information they need to prescribe contacts. Knowing what to expect before your contact lens fitting session will benefit you. 
Contact lens requirements and adjustments vary for each patient. Consult a professional eye care provider to get custom-made contact lenses for vision correction. At Lens and Frames
Optical, we employ our knowledge and expertise to create the best-fitting contact lenses for you:
1. We take measurements of your eye curve and diameter.
2. The optician will take measurements of your pupil and iris.
3. Our expert optometrist assesses if your eyes produce enough tears to moisten your contact lenses. 
4. We offer a free contact lens consultation. 
EXPECT THE FOLLOWING DURING YOUR CONTACT LENS FITTING SESSION WITH THE OPTICIAN:
1. CONSULTATION WITH OPTICIAN TO CHOOSE THE BEST OPTION
Several types of contact lenses are available on the market. The optician will recommend
specific contact lenses based on your usage requirements, age, and vision issue. Feel free to
explain your preferences and lifestyle to your optician so he can guide you in the best way.
2. THE MEASUREMENT PROCESS
During the contact lens fitting session, the optometrist takes measurements of your eyes. In
measurements, they calculate the size and dimensions of curve, diameter, pupil, and iris. They
also assess the health of your eyes to determine if they are suitable for contact lens usage.
3. TESTING THE CONTACT LENS
After measurements are complete, the optician offers you a pair of lenses to wear for some time. 
This trial aims to analyze the accuracy of their examined measurements.
Furthermore, if you are getting lenses for the first time, then to help you
learn how to put them on and remove and store them later in the solution.
We offer this consultation service free of charge
This follow-up ensures your contact lenses are perfectly fitting and cause no issues in normal vision.
5. TRIAL AND PRESCRIPTION
If the lenses appear to fit well after testing, your optician will order them for you.
This will take several days to make custom-designed contact lenses for you.
CONTACT LENS AND FRAMES OPTICAL
Always consult a certified optometrist and a professional eye care provider like Lens and Frames Optical in Cambridge
to get the best eye health services and avoid unpleasant experiences. Book an appointment
with us today if you are thinking about getting contact lenses!